TV mounting Services in Saskatoon

Introduction
Learning how to wall mount a TV allows you to make one of the most significant changes to your home theater.
Why do people want to wall-mount their televisions?
Wall-mounting a TV has several advantages, including a cleaner aesthetic design and better ergonomics for more enjoyable viewing. It can also keep a TV from tipping over, which can be dangerous if you have young children or pets who like to climb near the TV stand.
How to mount a TV
Mounting a television on the wall can be a subtle yet effective way of elevating and de-cluttering a living space without requiring many permanent changes.
Although mounting a TV on the wall may appear intimidating, it isn't too difficult to accomplish with a few basic tools, a compatible wall mount, and the help of a friend to help lift the TV.
Before you start:
There are several things you should know about TV mounting before you start drilling holes in the wall.
Know the size of the mount you need
Identify the wall type
Pick the right TV mount
Steps to follow:
To mount your television to the wall, follow these steps:
Make a note of the studs. Find the studs in the area where you want to mount the TV and use the stud finder to mark the center point of each one.
Tape the wall mount template to the wall.
Make the holes.
Fix the mount to the wall.
Attach the hardware to the back of the TV.
Place the TV on the mount.
Types of tv mounts
There are three kinds of TV wall brackets:
1.   Flat
This bracket is ideal for living rooms where the TV can be mounted in a fixed position for a clean and stylish appearance.
2.   Tilt
For an optimal TV viewing experience, this TV wall mount can be slightly angled (vertically up to 15°) to counteract sunlight, glare, or reflections.
Also ideal if you enjoy watching TV in bed and your television is mounted high on the wall.
3.   Turn
This TV wall bracket is also known as a full-motion or articulating TV wall bracket.
It allows for complete freedom of movement. While keeping a clean and modern look in your living room, you can retract, tilt, or swivel your TV up to 180° horizontally and up to 20° vertically.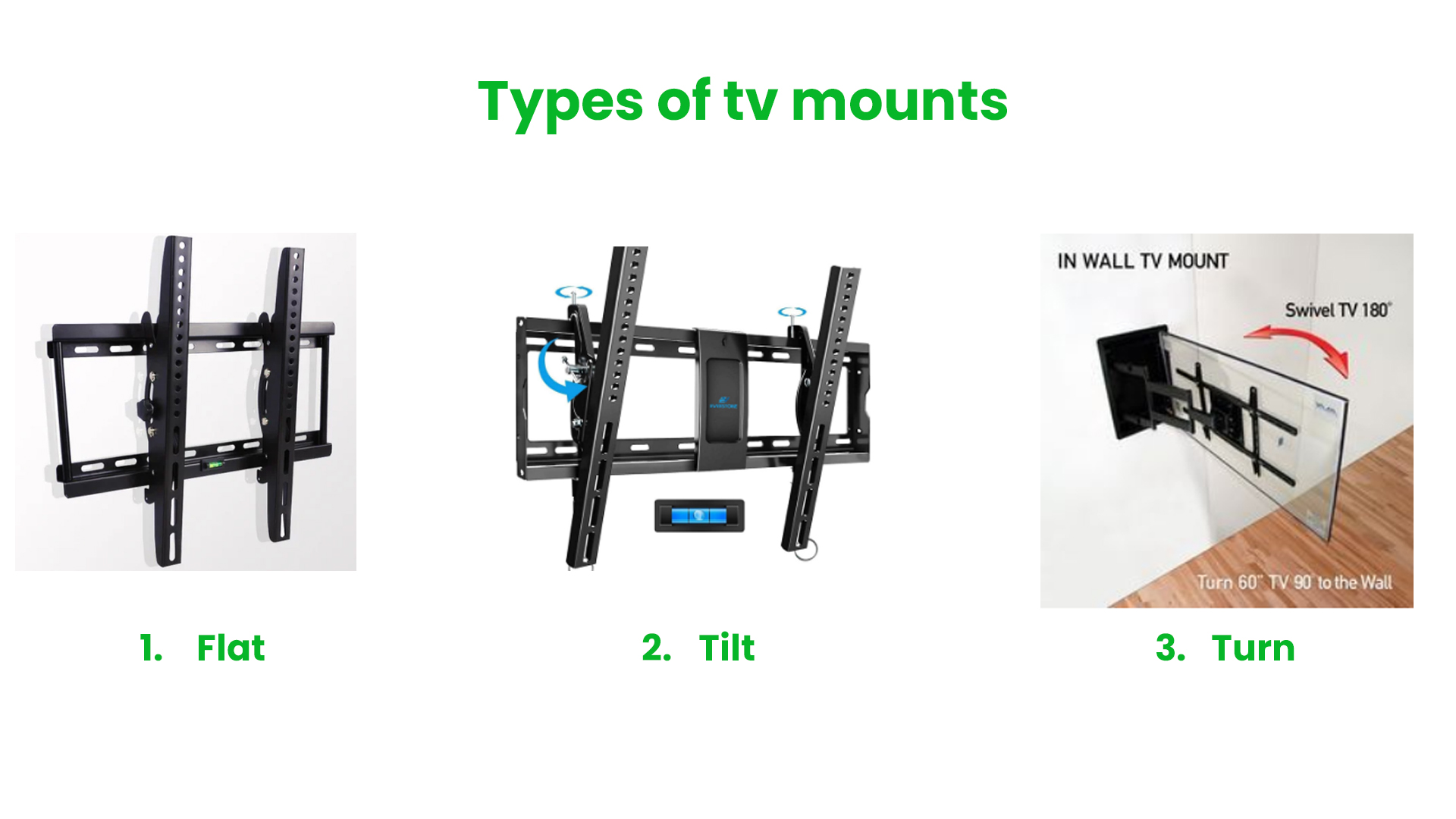 Why you need a professional handyman for your TV mounting
Mounting a television is more than just slamming it against a wall and hoping it sticks. It takes tools and skills to ensure your TV is properly mounted and not damaged in the process.
If you're still undecided, here are the top 5 reasons why you should have your prized television professionally mounted.
1.   Appropriate Positioning
The main reason for hiring a professional for TV mounting is to ensure proper placement.
Professional TV mounters will assist you in locating the ideal viewing location.
2.   Proper Mounting
The most obvious and important reason to hire a professional is to ensure proper mounting.
When a professional mount your TV, you can be confident that it will not fall.
3.   Hide Those Wires
A professional installer can conceal cords by running them damage-free through your walls.
They can also organize all of the television's cables and associated components so that your home does not look like a construction zone.
4.   No Damage
The sound of a television crashing to the ground is terrifying.
Whether it's due to improper tools, a lack of skill or slick hands, attempting to mount your TV on your own carries a high risk of damage. Don't risk damaging your TV, from the screen to the hardware.